The Mill Pond 10th Oct 21
Following on from the previous week's match on the Thames at Windsor, we returned to the AEC's excellent Mill Pond fishery in nice warm sunny conditions.
The match produced some good weights and a very close finish with just one fish separating the top four anglers. Keith Gibson took the honours weighing in 58lbs 7ozs winning narrowly from Fred Fairman who put a level 58lbs on the scales. Third place went to Dave Mustoe and the specimen was won by Keith with a carp of 16lbs 8ozs which is recorded on the specimen list as the biggest fish of the series so far.
The section winners were Mike Smith and Clive Bunday. There were only a couple of weights under 10lbs so overall it was very good match with most having plenty of bites. We are now about a third of the way into the series so there's still a long way to go.
The next match will be on the Thames at Molesey which replaces the advertised tidal Thames at Kew which has not been fishing well at all. Hopefully conditions will be favourable for Molesey so let's look forward to another river match in a couple of weeks' time.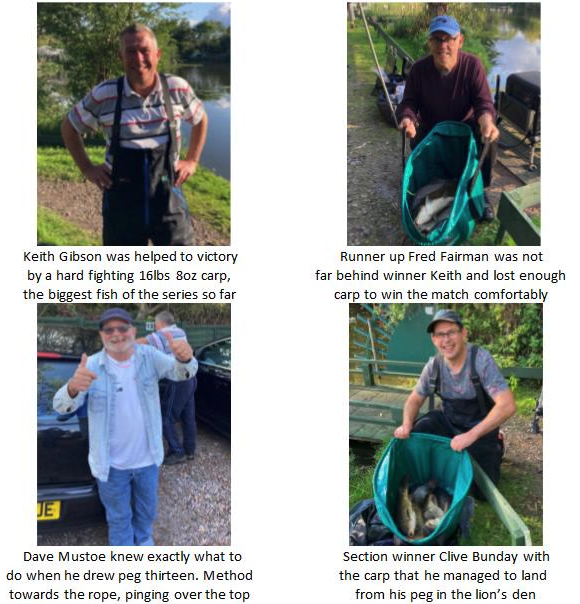 STATTO FACT
14 anglers fished
Total weight 414lbs 3oz
Average 29lbs 6oz per angler