Barnett Pond 19th Sep 21
Round six of the championship series took place at a new venue for us, the tranquil Barnett Pond in Surrey.
Once again, big bonus fish, this time in the form of carp, played a key part in the outcome of the match and those fortunate enough to catch one or two scored well, leaving those not so fortunate struggling for a couple of pounds or even ounces as the resident bream shoals failed to appear.
Mickey Catten scored his third win in six matches with a runaway victory, more than doubling the weight of his nearest rival on the day. He pressed home the advantage of his end peg draw catching four carp on maggots over groundbait down the right-hand margin and two on the same tactics in open water. The in-form Mick gets the ''Man of the Match'' award for the second match in a row for taking full advantage of the situation and winning the match in style. Runner up Glen Briggs had a couple of margin carp, and third placed angler Ryan Fairclough had one of 14-7-0 which won the specimen and is biggest fish of the series so far. The section winners were Perry Fairclough and Frank Bursnall, and also worth a mention is Jon Colman's 1-9-0 perch which is on the specimen list.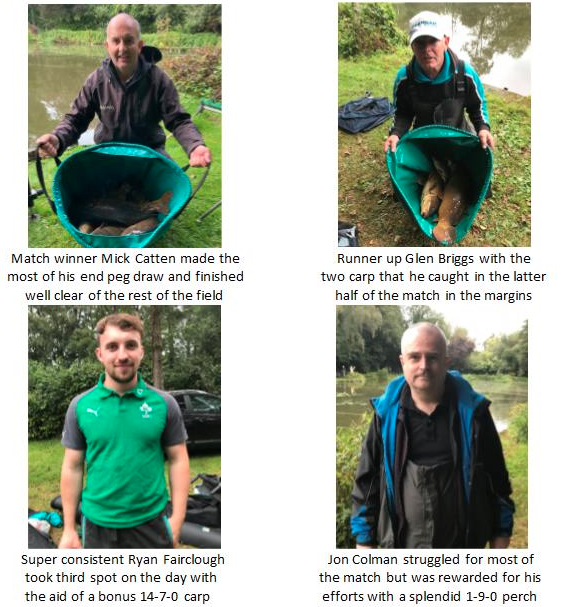 STATTO FACT
17 anglers fished
Total weight 153lbs 9oz
Average 9lbs 9oz per angler
STATTO FACT
Mick Catten (again)