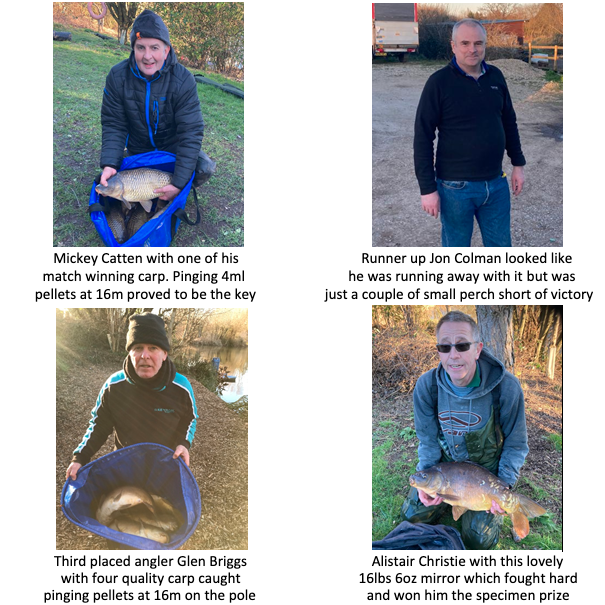 Wood Lane 27th Feb '22
Mick Catten gave his championship aspirations a boost by scoring his fourth win of the series in round seventeen at Wood Lane on Sunday.
After a slow start on the bomb to the island which produced only one foul hooked carp that came off, Mick switched to dobbing bread to the reeds on his right and picked up a couple of carp there. Meanwhile he primed the 16m pole by line pinging 4ml pellets, and when he went on it in the second half of the match, it produced a late run of carp which gave him enough to finish just ahead of runner up Jon Colman. Jon on the other hand got off to a flying start with four carp in the first hour on dobbed bread, but unfortunately his peg slowed as the match progressed leaving him frustratingly just 10ozs short of the win. It was later reported that Jon had thrown back a couple of perch rather than put in an extra net for them. A schoolboy error that cost him the match which he won't repeat again in a hurry. Glen Briggs was third with four carp for 33-12 all caught on the pole at 16m.
The section winners were Mike Smith and Doug Read and the specimen was won by Alistair Christie with a superb 16-6-0 carp which he skilfully played and landed on the pole. The next round is at Chaley Park, which is a new venue for us, and with only six rounds remaining in the series, the race for the title looks like a three-way battle between Mike Smith, Keith Gibson and Mick Catten. Best of luck lads and see you at Chaley Park.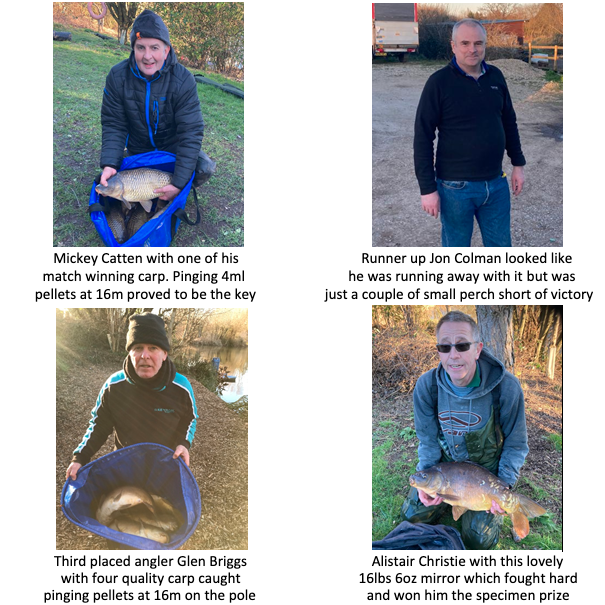 STATTO FACT
19 fished
Total weight 352lbs 5oz
20 fished
Average per angler 18lbs 1oz